Parabolic Dish Setups and Camcorders
These are photos of the various camera/dish/microphone setups that we use in the field. Our recording stations were designed to meet several criteria, we set out to design something that could amplify sound via a dish collector but had to be cheap as we needed several units running to accomplish our goals. Due to a limitation of dishes collecting sounds from a narrow angle we needed at least 3 to be able to collect sounds from all directions if necessary. To further enhance our results we decided to use amplified mics such as the Sonic Super Ear pictured to the right.
These mics are quite clear in the lower portion of the amplification range and can add up to 50 decibels enchancement, we have purchased these off of Ebay for as little as $10. In the spirit of keeping things cheap (since all expenditures are coming from our own pockets) the camcorders that we use are Digital 8 and Hi8 models made by Sony, these can be purchased from Ebay for very reasonable prices sometimes for under $100. Currently we prefer the models DCR-TRV103 (Digital) and CCD-TRV65 (Analog), these record in stereo and produce nice reproduction of audio and the tapes are very cheap (3 for $7.88 at Wal-Mart) since this is older technology. The audio front ends on these camera's can be overdriven by the amplified mics so we have added inline volume controls purchased at Radio Shack for $7 to adjust input to the perfect level. The cameras feature Night Shot and to enhance this capablility spotlights were added and IR lenses cut to fit over the spot light to extend IR capability from 20ft to about 100 yards. A battery is mounted on the system along with rocker switches to power and activate the lights. The cameras are mounted in such a way that if we hear something getting close we have the ability to light up the direction that the camera is pointing at all times. The dishes can pull off of the tripods and go mobile in the field when necessary.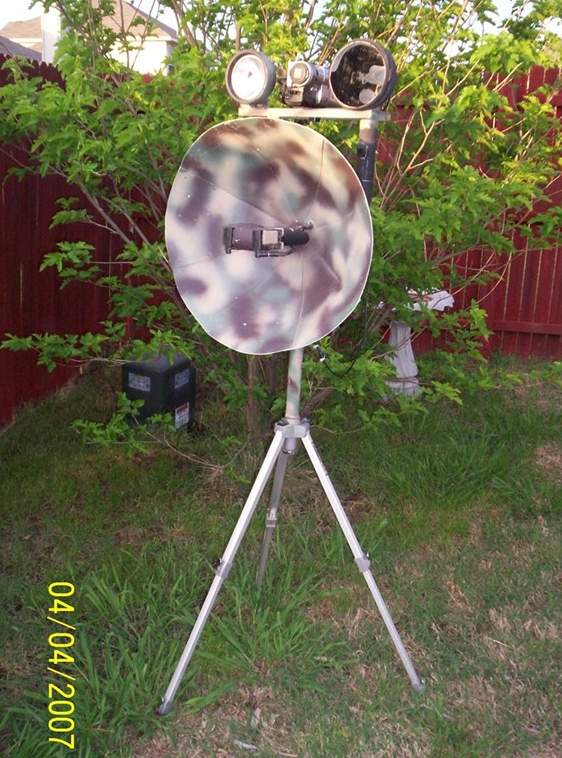 The Recorder setup showing the dish, dual Sonic Ears providing stereo recording, spotlights and Digital 8 camcorder.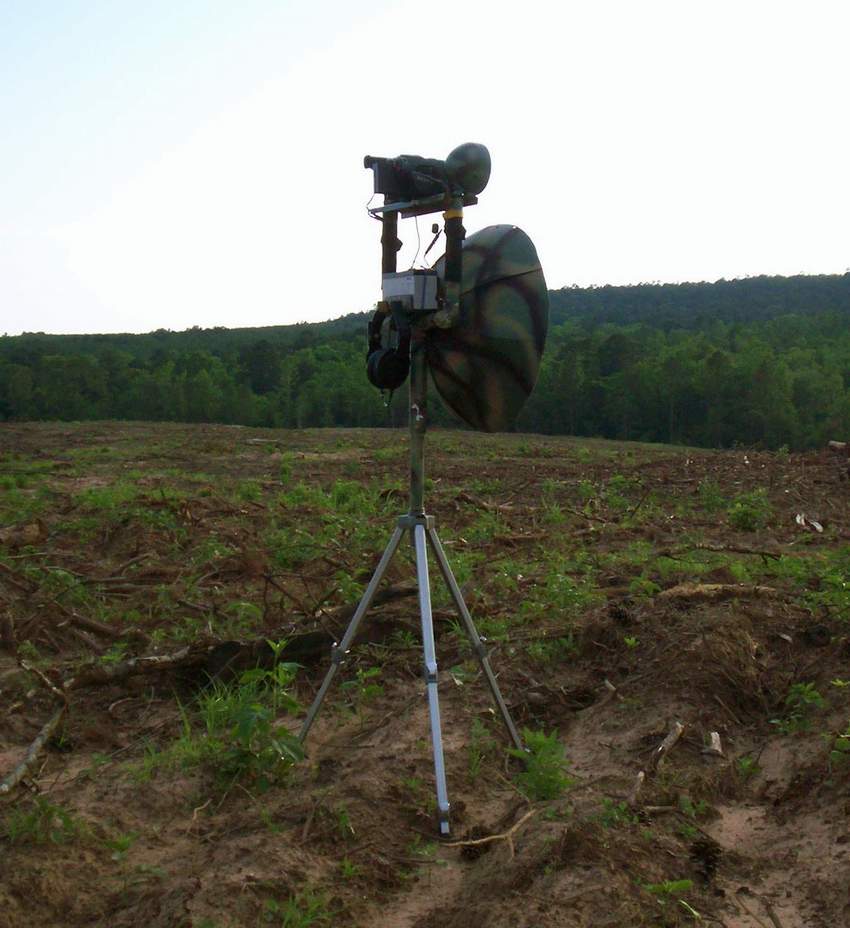 Setup in preparation for night ops, Anderson County, Tx.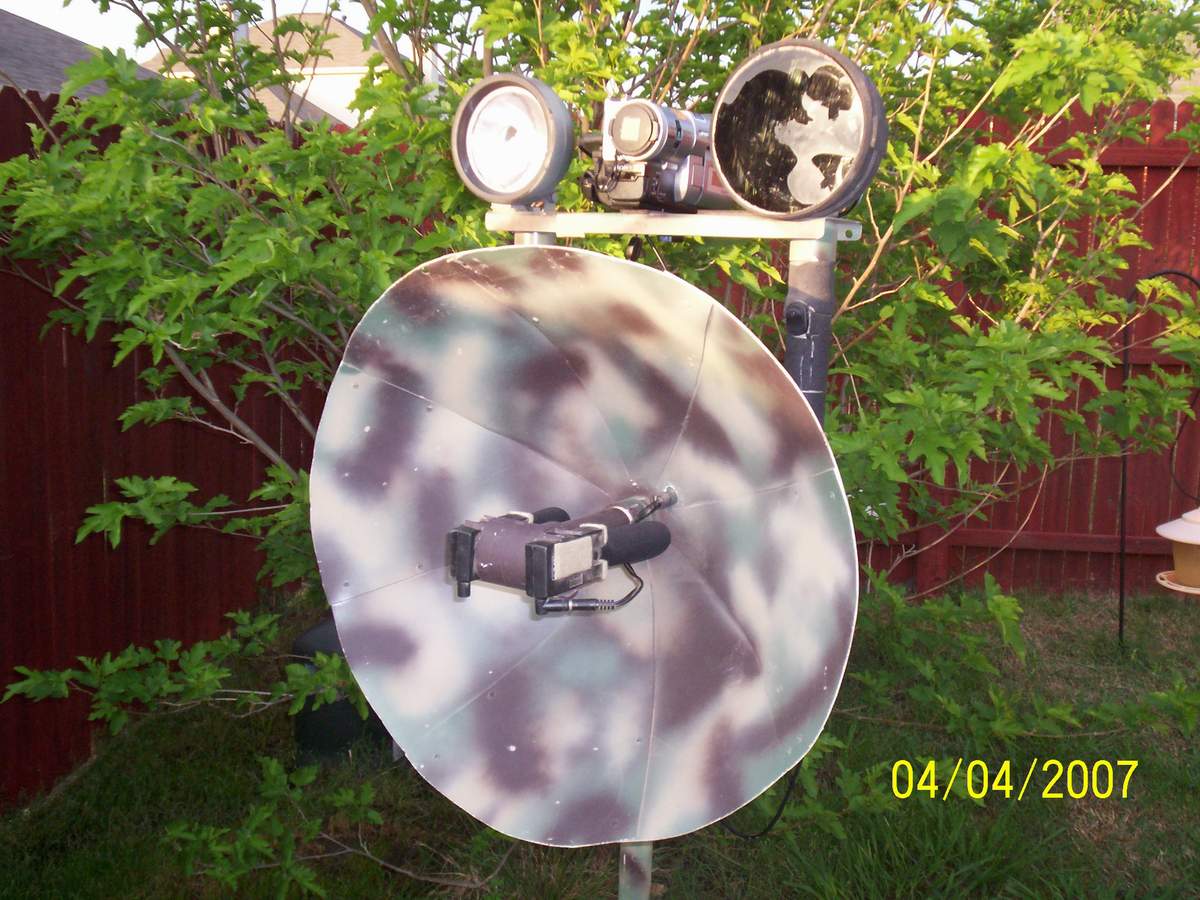 Closeup of the front of the unit.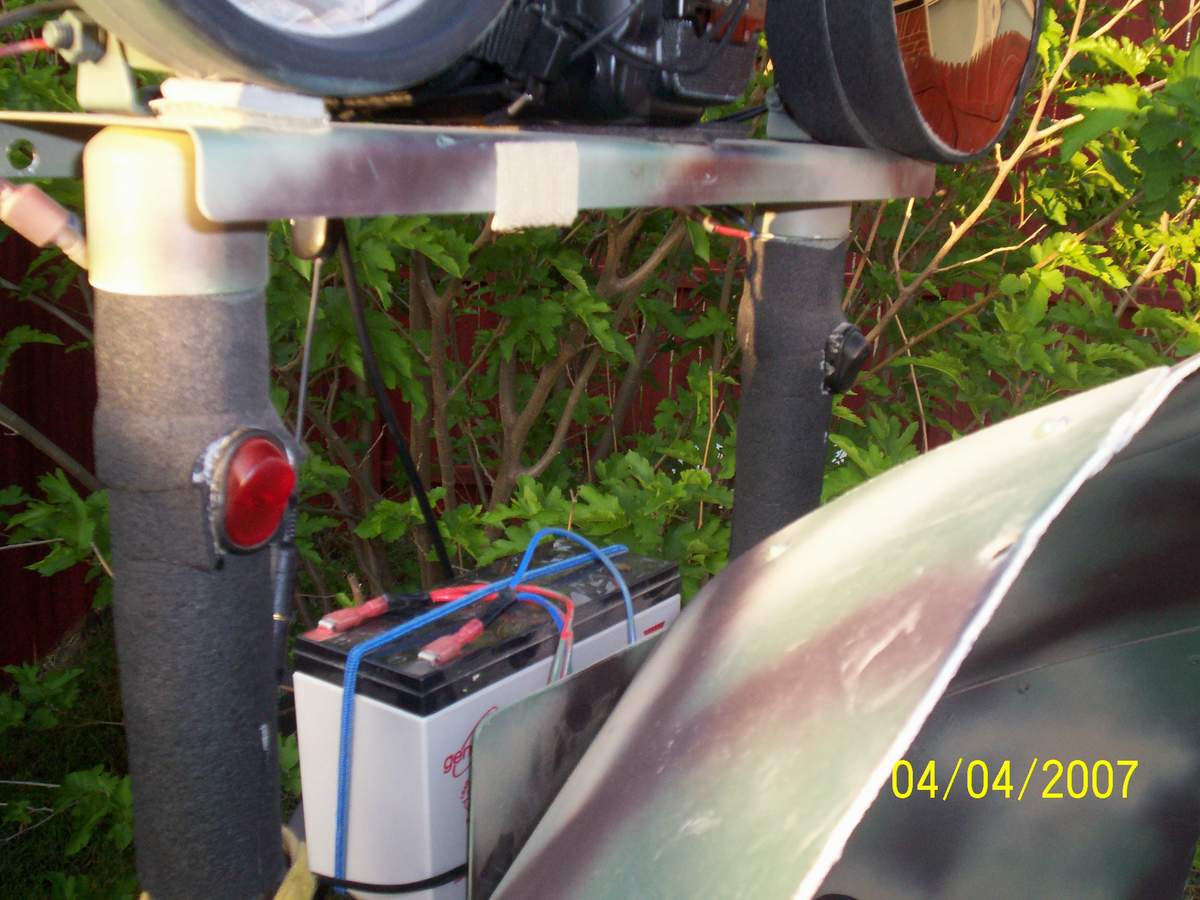 Closeup of the rocker switch and battery assembly.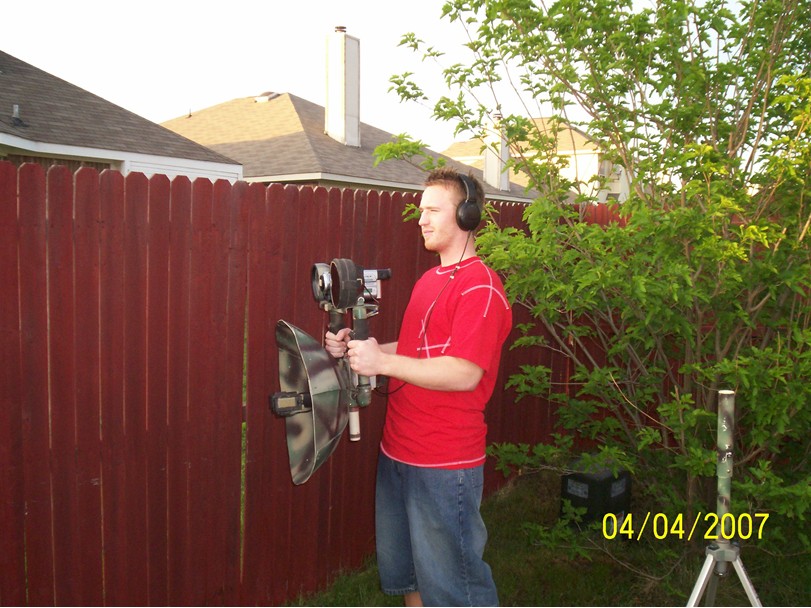 Unit can lifted free of the tripod to go mobile.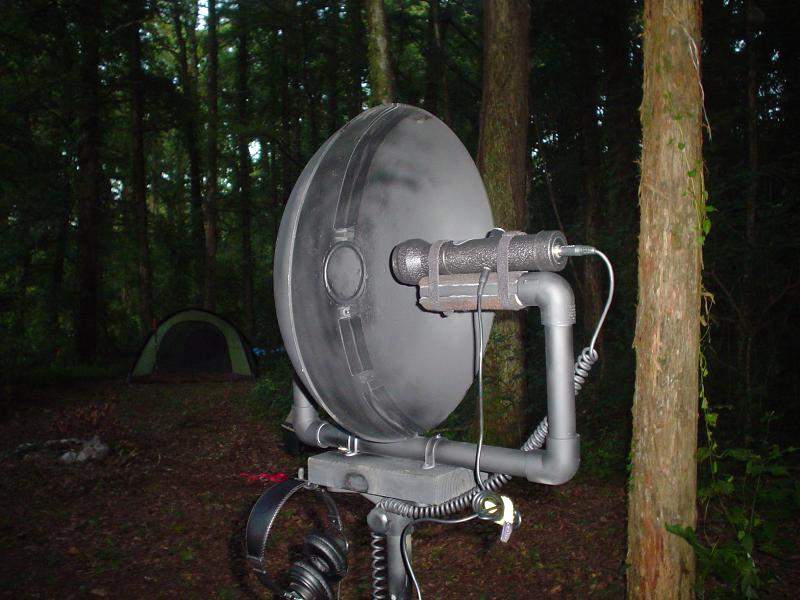 Audio only setup, this one uses a very sensitive amplified mic from a Bionic Ear setup.
Photos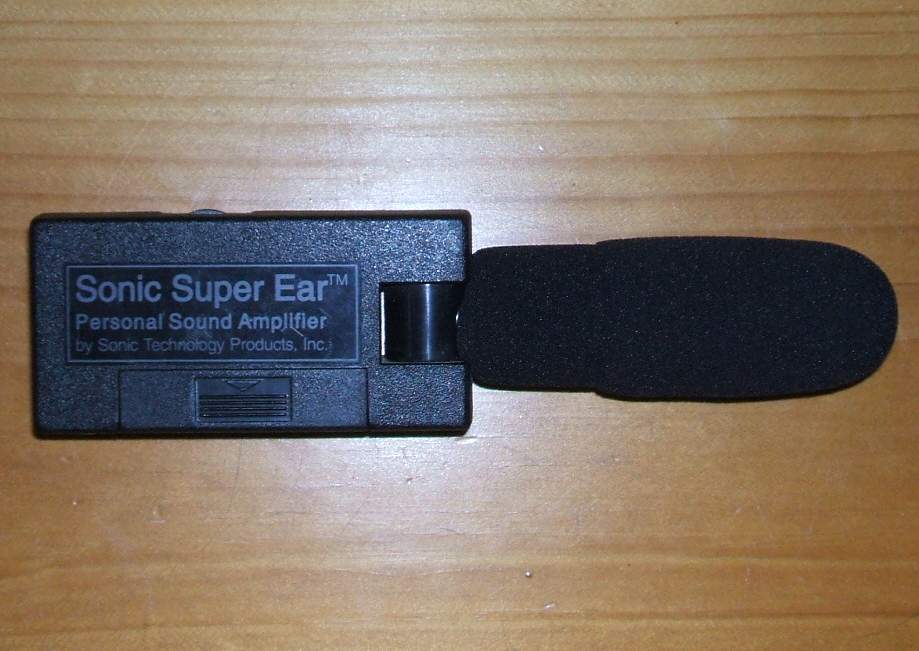 A close up photo of the Sonic Super Ear Microphone used in our recording stations.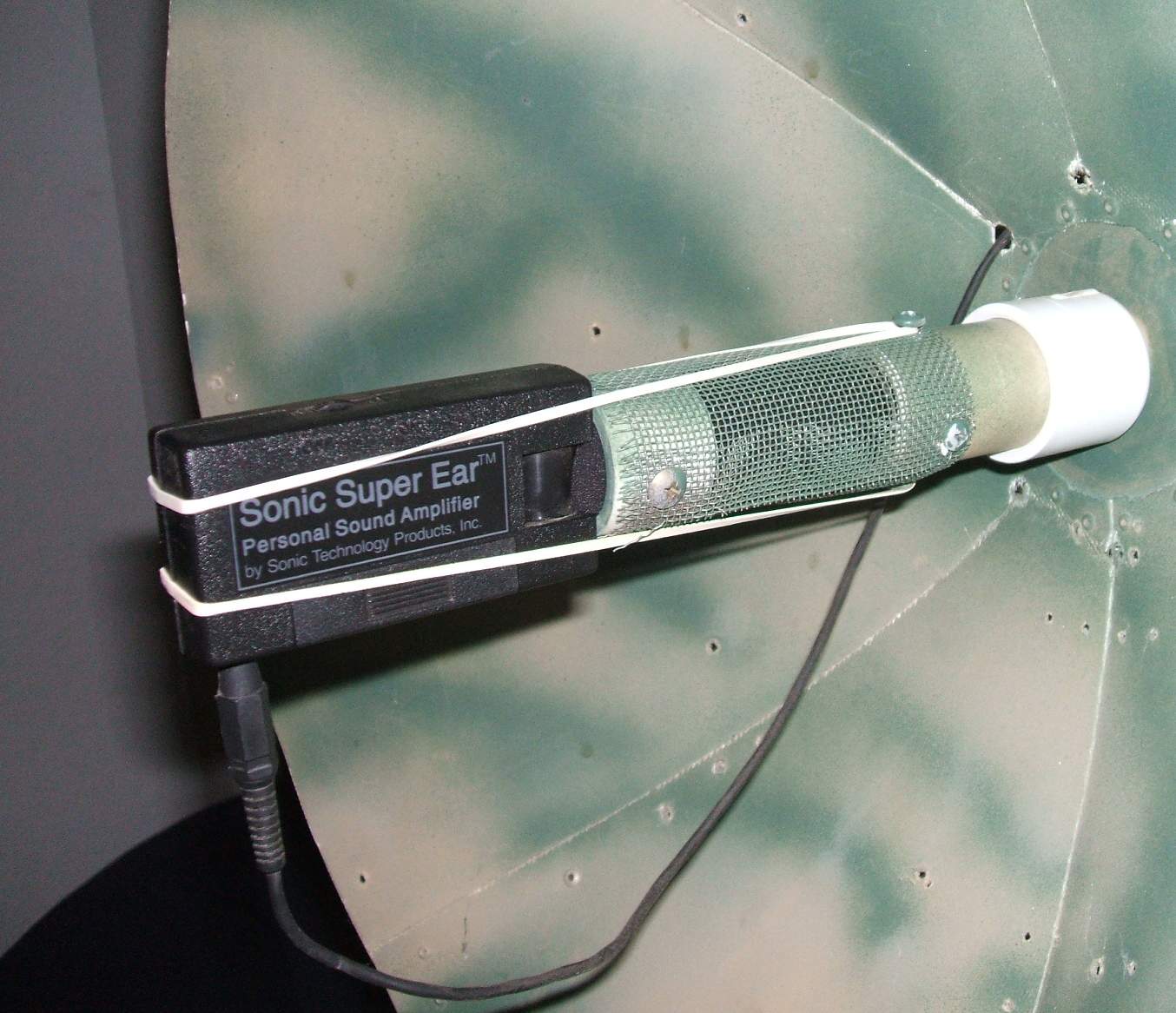 Close up of one of the mounting systems used on our recording stations, this one using a single mic.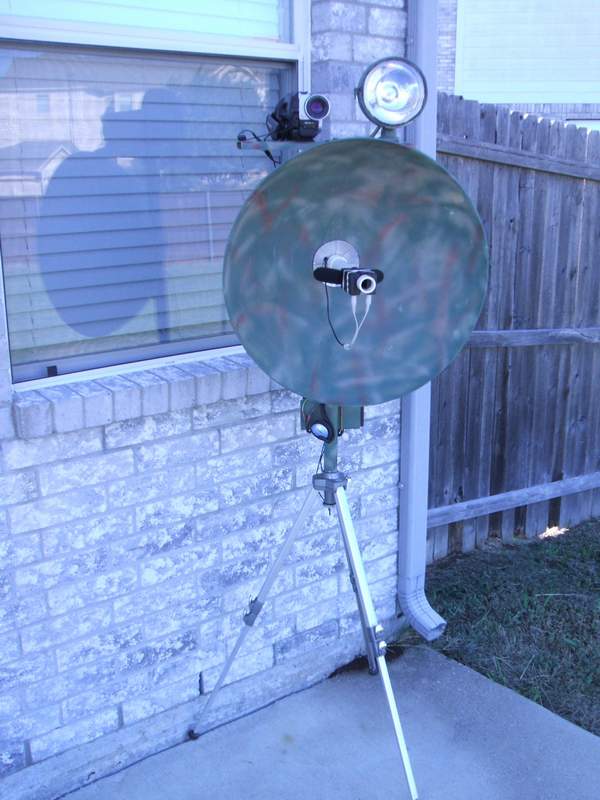 Another setup featuring dual Sonic Ears and 100Watt spotlight and Digital 8 Sony Camcorder.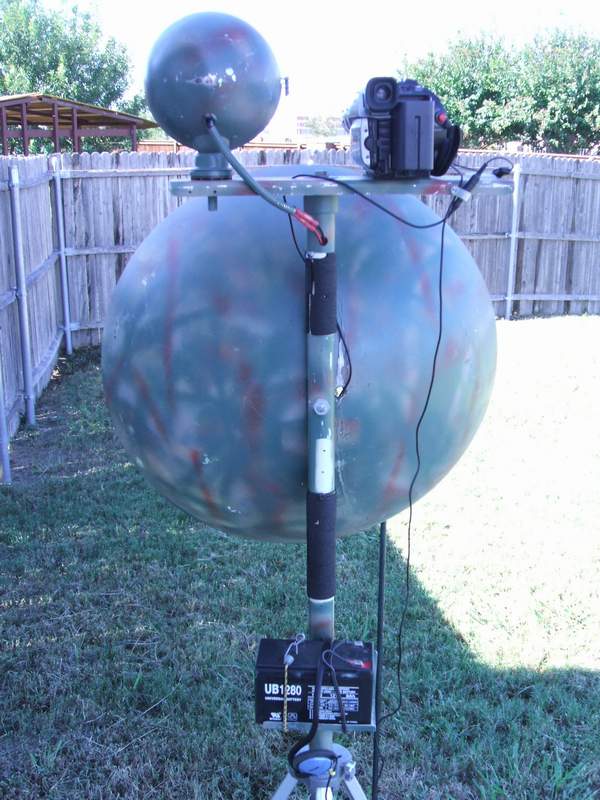 Back of unit showing battery placement.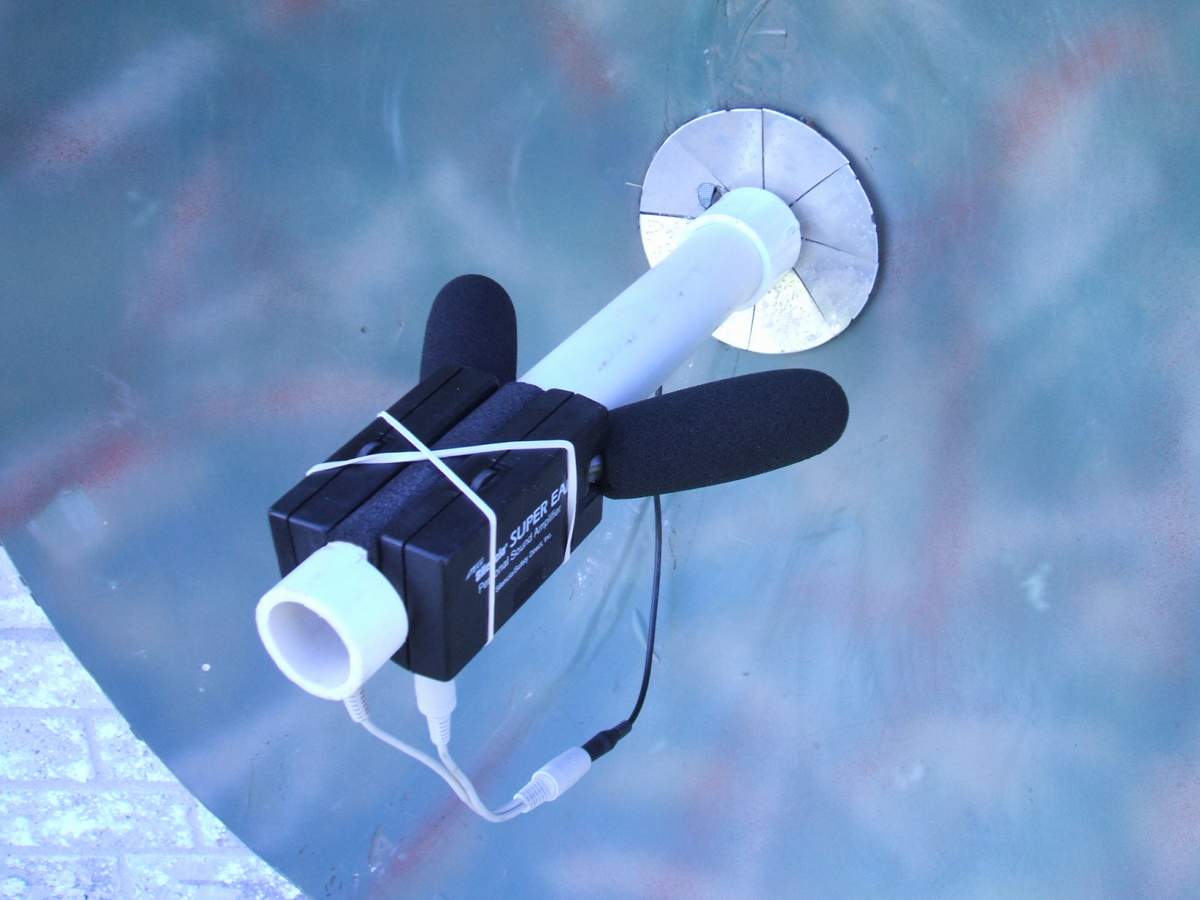 True Parabolic dish collects sound which is sampled by the dual mics and passed on to the camcorder.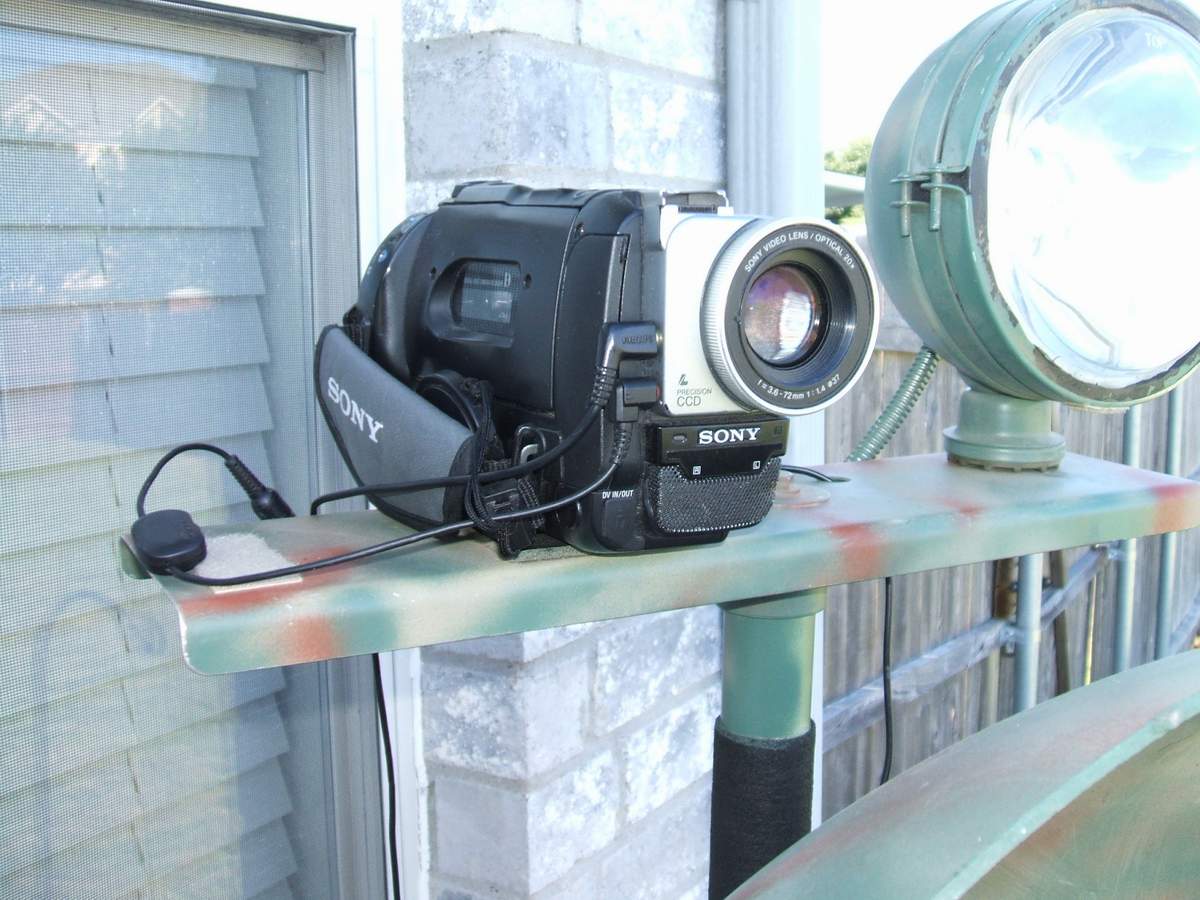 Digital 8 camcorder mounted such that video, audio and light (if needed) are aimed together.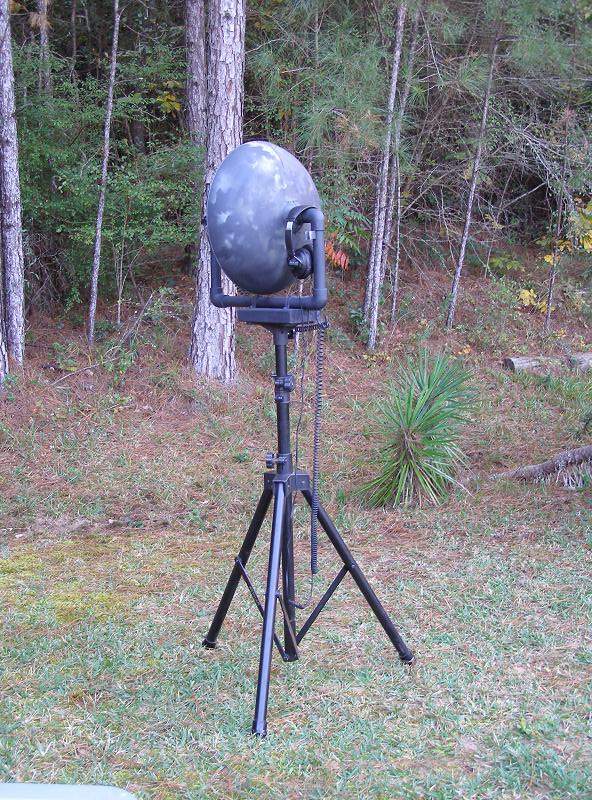 Back side view of audio only setup.