Possible Bigfoot Trace Evidence?
What follows on this page is a collection of things found in various research areas. These include hair, footprints and some unexplained tree manipulation. As always with the Sasquatch phenomenon some things can appear to have other plausible causes, in each case below "plausible" causes were found to come up short in explaining what was found.
Hair Left Behind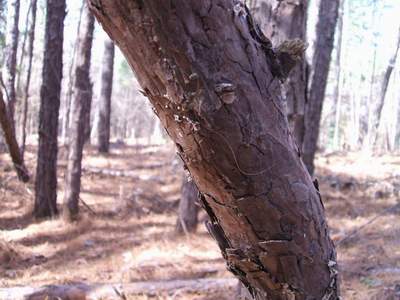 If you are finding tree damage/structures like the ones pictured on this page take some time and inspect them for any attached hair that may have been left by the creature responsible. The hair that you see in the picture to the right was found attached to one of the logs used in a "lean to" type of stucture. Hair could contain DNA, and if extracted could end up being very important to science. Hair morphology and DNA would reveal what branch on the tree of life the owner belonged, and if is not matched to a known animal from the area would be very interesting. It is thought that a sample with a substantial piece of skin attached might give us what we need to pull reliable DNA sequencing results. If you find a hair sample please do not touch it directly with you fingers, instead use a barrier of some type, such as rubber gloves, failing that use a plastic or paper bag turned inside out gently grasp and lightly pull the specimen clear of the log/fence, and then turn the bag rightside out and make note on the bag the date and location of the find. The hair shown in the photos below has now been examined by 5 different labs without being conclusively identified to be any known animal, wild or domestic. Samples from this find have now joined others in a nationwide study that is ongoing at one of the labs working on this issue.
Foot Prints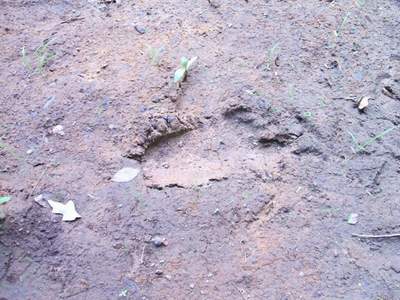 Foot prints are good trace evidence, but are extremely rare and hard to find. The substrate is usually covered with years of forest trash and those left in mud are erased by weather in short order. If you find tracks ask yourself if they are in a location where someone might go barefoot for any reason, are they of a size that would be simply outlandish to belong to a human, say 15 inches or more in length. Compare them to your own shoe size and take pictures if you have a camera with you, use something of a known size such that you can use that to get a rough size estimate of the track. If the prints are detailed with visible toes and especially if you can see any skin dermal ridges in the track try to protect them and return with some type of casting agent such as Hydrocal B-11, which can be purchased at most construction supply outlets. With regards to this research, tracks that have clear toe inpressions or have visible dermal patterns are considered to be highly important. The tracks pictured here were found in Cherokee County, Texas and St. Martin Parish, Louisiana. In the case of the Texas tracks there were easily over 40 tracks in this trackway, and these had the rare feature of having visible toes. The trackway came from out of the woods walked along about 50 yards of river bank and then were lost as they returned to the woods. One of the casts that we made in this find has been turned over to Dr. Jeff Meldrum for further analysis.
Odd Tree Manipulation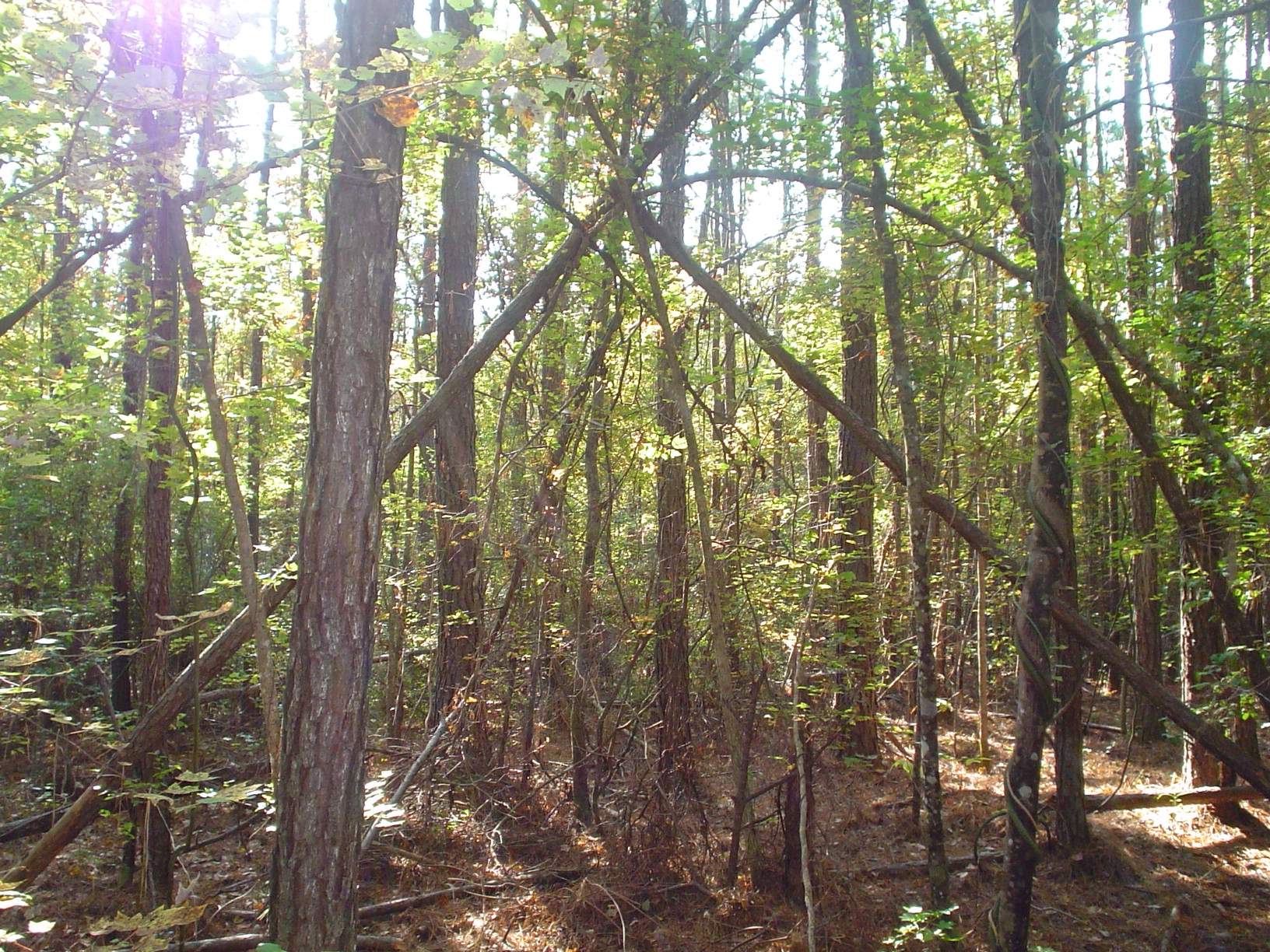 A true "TeePee" shape (like the one shown) with limbs that are interwoven from all directions are rare and would be unlikely to happen without some sort of external agent assisting them. Looking at the series of photos below, trees were used that had lengths approaching 60 feet or more, with some of these being up to 8 inches in diameter and weighing at least several hundred pounds. The immediate area of this find has been a source of recorded wood knocks and whoop type vocalizations over the past couple of years, when one of the TexLa members found and investigated this structure he could find no signs of human involvment, no boot tracks or sign of human presence was found. TeePee structures like these in the photos, and especially those in the series below are a source of speculation in that they seem too intricate to have been done by pure chance. The question is could weather and dead fall cause what is exactly in the photos or just something that looks similar, the answer is in the details. For dead fall to be the answer one would expect that all trees originate in this immediate area such that each should be traceable to a rotted root system in fairly close proximity to where the tree is now leaning into the teepee. However if, as in this case, trees can't be traced to nearby rotted root systems or there are trees in the teepee of types which are not growing in the area surrounding the structure then you have a real mystery. To our knowledge no one has witnessed a Bigfoot/Sasquatch building these structures, but since these are found in very remote areas with little human activity and even less human need for such a structure we're including them here until another more mundane explanation is shown to be responsible.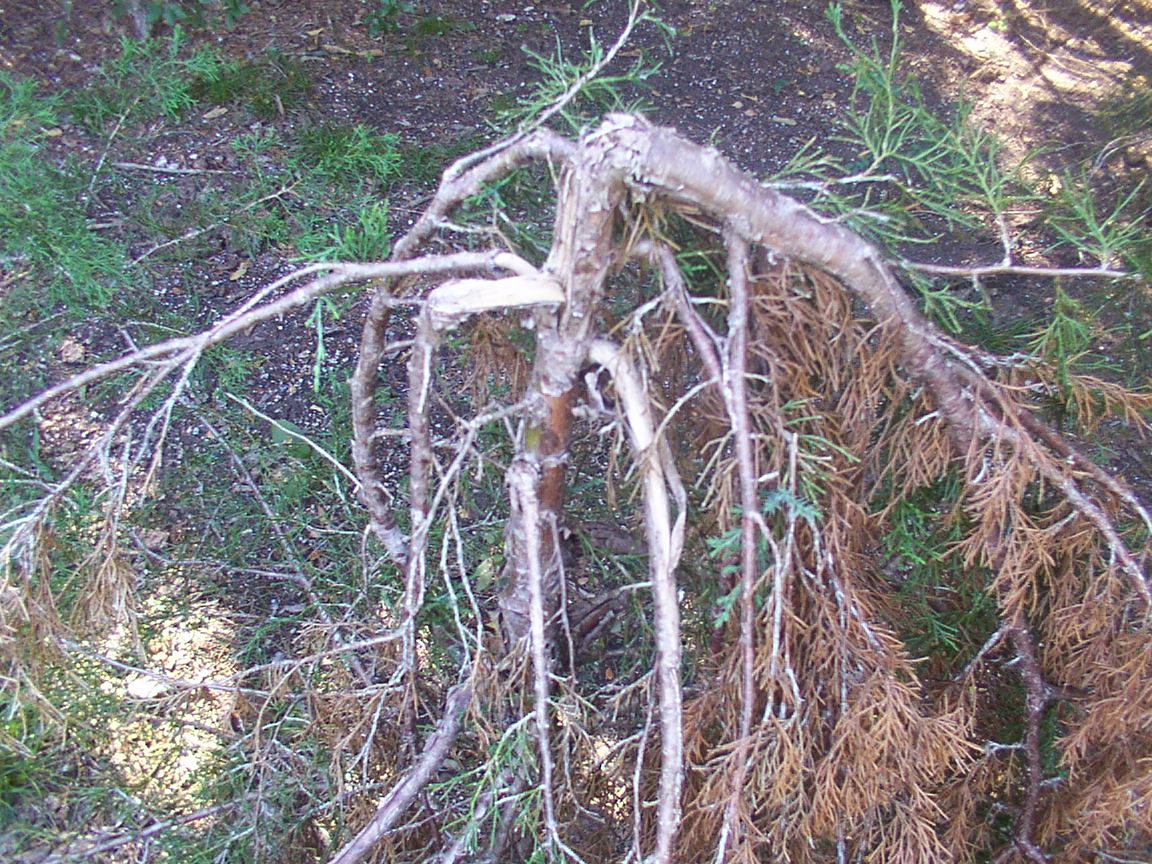 It is not known what tree breaks such as the one pictured to the right might mean, or even what is doing them. What is known is that they come in a variety of types and in some cases argue for the perpetrator having a grasping ability. Which implies that the hand responsible posseses an opposable thumb which in turn eliminates all known wild fauna from the discussion. The pictured tree had almost all of its limbs twisted and broken down something that would be outside the behavior of the known animals in this area. Other trees standing right next to this one were fine, which would remove any atmospherical condition causing this type of damage. We did a larger sweep of this area and found other trees that exhibited damage of various sorts, including some twistoffs some of which are in the pictures below. Amazingly, this treatment didn't kill this little tree, we went back to check the area over a year later and found the small cedar had sent out new limbs and had recovered well. We have found that Eastern Red Cedars seem to receive this type of treatment often and have found this type of damage at several research sites. This tree was found about 100 yards from where a sighting was reported in Ellis County, Texas in 2006.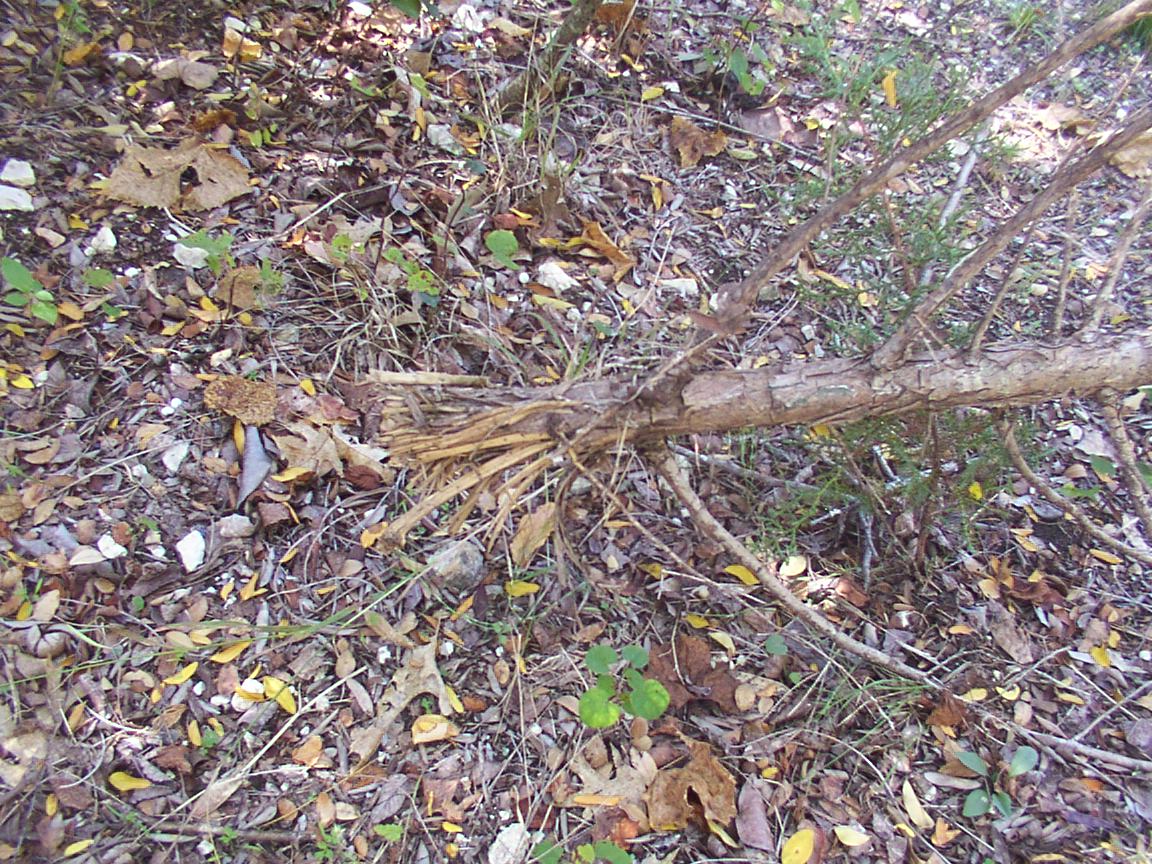 This twist off was found in the same area as the small tree that was pictured above. This was not so much a twisting action as a rocking action, which was done to the point that the tree top was removed. We found the top about 20 feet from the tree from which it was removed. Other interesting things found in a sweep this same area can be viewed by clicking here and you can read about the sighting that happened in this area in September 2006 by clicking here. This tree top was collected by the group and was inspected closely for signs of hair or clues left by whatever removed it. Nothing was found that indicated that the tree was broken by typical means, i.e. no signs of hacheting or saws being used, no scrapes, scratches or teeth marks were found. No indication that it was exploded by lightening, no signs of being burned were present. In fact it is devoid of even small branches being broken off above the break as someone or something with large hands might have done while they wrenched the tree around during this operation. Whatever did this managed to not leave a mark in the process. Other twist offs that would be of interest would be those that are of a diameter that would require a level of torque that is thought to be outside of what is possible for a human. So far we have not found a good example of one of these in our research areas but if one is found it will be added here.
<![if !supportEmptyParas]> <![endif]>