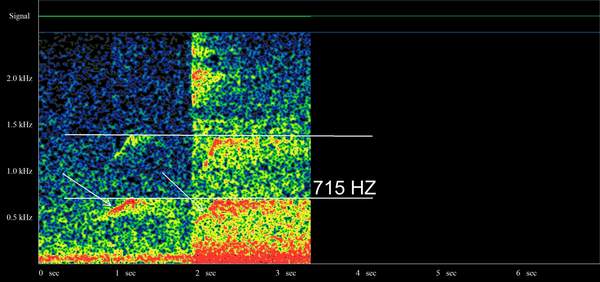 In the spectrograph above, one of the East Texas whoops recorded on 5-4-08 is on the left and one of the Louisiana whoops is shown on the right in a side by side comparison. The spectrograph reveals that the two recordings are remarkably similar in pitch, quality and rate of pitch increase. This is highly suggestive, in our opinion, that these vocalizations were made by a wild living creature indigenous to the wilderness areas of Texas and Louisiana. Despite their obvious humanlike quality, and compact spectra, which is typical of human vocalizations, these whooping sounds may very well be the actual sounds made by sasquatch or bigfoot-like creatures. Click the link below to listen to the 2 whoops in the spectrograph played back to back.
7. Texas/Louisiana Whoops - Here are the 2 whoop recordings looped together in a single audio file, the Texas whoop is first followed by the Louisiana whoop.
8. Unknown Vocals - These were recorded in the Sam Houston National Forest. Fox, Coyote or ?
9. Unknown Vocal - This was recorded on private property in an area where other activity of interest is ongoing, we haven't released it before due to our thinking it might be a horn or some other human made sound. Most people's reaction is "what the heck". There is an equal chance it is a vocalization from the local wildlife and if so is currently unidentified, if someone out there thinks they know what it is feel free to contact us.
10. Unknown Vocals - This was recorded on the Trinity River in December of 2009. There are 3 vocals, short howls or elongated whoops. We lean to Fox for these but are not sure if this is correct. The was edited to remove people talking in close proximity to the recording unit. If someone out there thinks they know what it is feel free to contact us.
11. Unknown Vocal - This was Recorded in SE Louisiana in March 2007, the current cast of possibles for this one could include Fox, Owl or .......? The spectrograph below shows first the scream recorded then the vocal image of a human female saprano and it is quite close, but we know that there were no female opera singers at this location on this night. This vocalization was featured on the popular History Channel show MonsterQuest in the Swamp Stalker Episode where Rick Noll is shown call blasting the cleaned up version of this vocal. Click here to view this episode.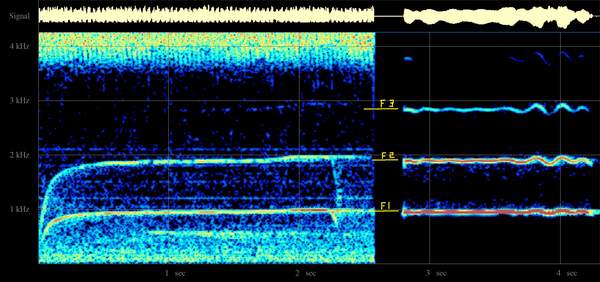 12. Unknown Vocal - This was Recorded in East Texas in May 2008, this one is probably canid in origin but if so demonstrates some impressive abilities to mimic what it hears. The first vocal is our call blast followed bye the return vocals which were recorded by a digital recorder that was placed far from our blast point to record vocal responses such as these. You can see the visual representation in the spectro capture below, interesting how the resonant frequencies seem to line up. This vocal was featured on the popular History Channel show MonsterQuest in the Hillbilly Beast episode. Dr. Joe Fox has been working on several of our unidentified recordings and used this one on the show during their call blasting in Kentuckty. We have this episode linked on our YouTube Videos page which you can view by going here.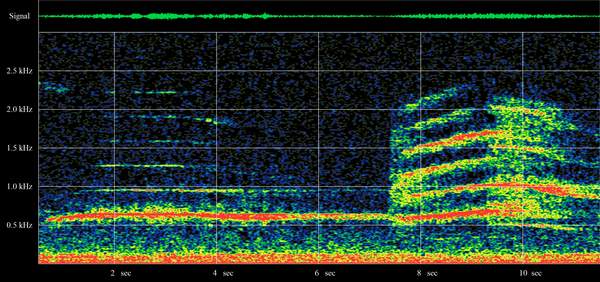 13. Unknown Vocals - This was recorded in Eastern Oklahoma on January 23rd, 2010 at 01:28 hours. We were camped in a public camp ground, from there we traveled roads running into remote valleys and river bottoms in this part of Eastern Oklahoma. We call blasted for several hours and left recorders behind to record over night, we had just left the location of this recording about 5 minutes before these vocals were captured, you will hear a gust of wind followed at 7 seconds into the recording by a very distant faint "whoop" and then 9 seconds later you will hear a much closer "yahhh" type of scream. The whoop may require head phones to hear.


14. Unknown Vocal - Here is another oddity that was recorded in July 2006, we had just call blasted and it set off a distant pack of coyotes. However we had not, prior to nor since, heard the squalling sound heard in this that you will hear mixed in with the coyotes. Does anyone out there know or have definitively heard coyotes do this? If so, feel free to drop us a note about your experience in the feedback form.
15. Unknown Vocal - This was recorded in August 2006 and has several vocals in it, the barks and the second vocal are canid in origin but what is the first vocal? Owl?
16. Unknown Vocal - This was recorded in May 2007 and has several vocals in it, there are some coyotes in this but we are mostly concerned about the first vocal. This was a response to the Ohio Howl that was blasted just before.
17. Unknown Vocals - While researching on private property in the early morning hours of 2-7-09 well after the team had returned to base camp, we recorded some howls starting at 04:24hrs, 9 in all, some of which you can listen to in the links below. We're not sure what it was, it doesn't sound the same as the coyotes that it set off which sound higher pitched and smaller, listen below and decide for yourself. All vocals sounded just like the 3 that we have provided so if this was canid it did not demonstrate the common pitch changes or yodeling that most canids would perform. It also continued vocalizing well after the coyotes had lost interest, the 9 vocals covered a time of about 15 minutes. The recorder that captured these continued to run until after 7AM with no further vocals of this type being found.
---
<![if !supportEmptyParas]> <![endif]>