February 18/19/20/21 2010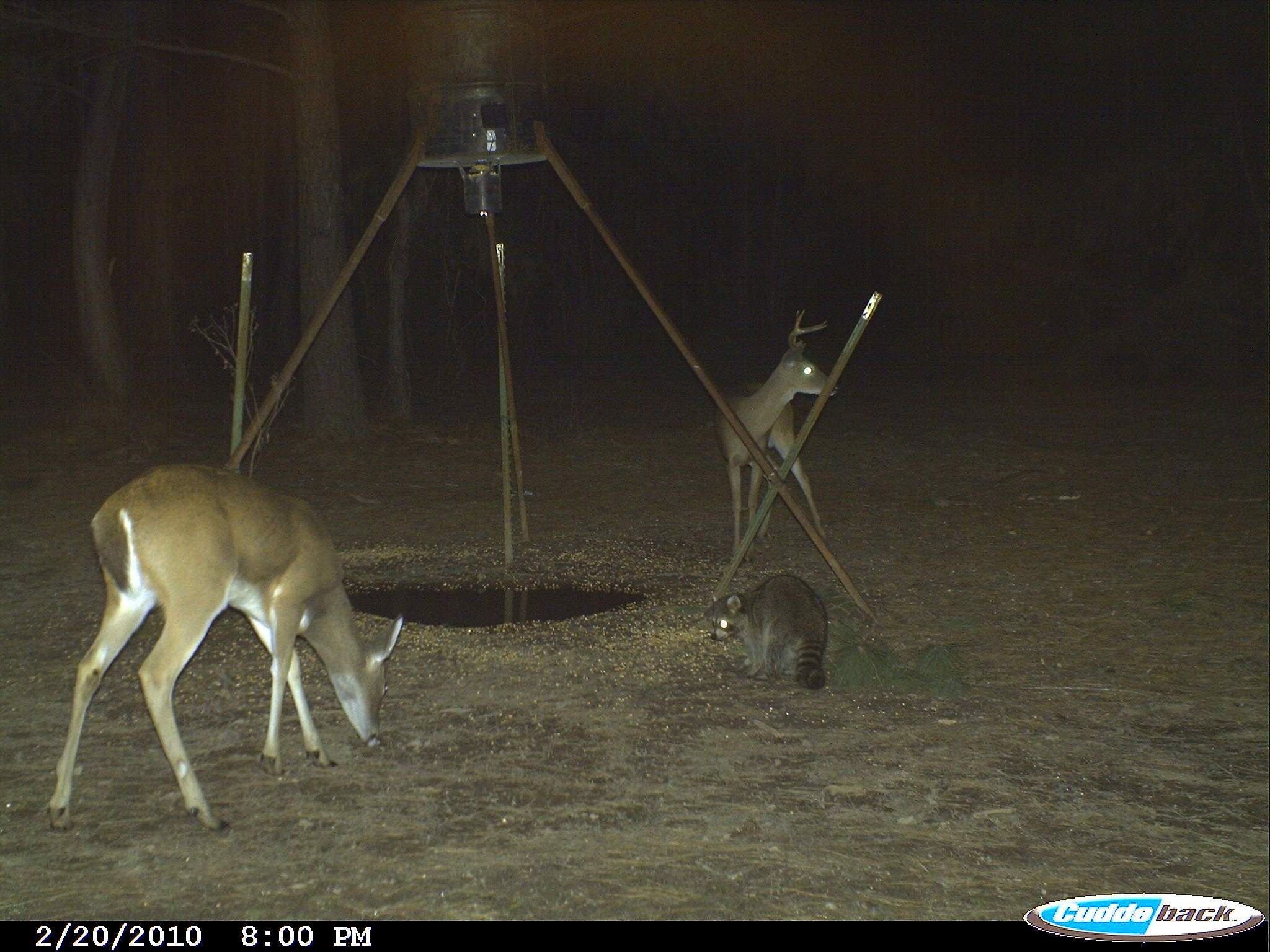 We returned to a private ranch in Anderson County where last year we had recorded some unidentified vocals and found various tree structures. The property owner had informed us prior to our visit that he had found human like 15" foot prints in fresh mud around newly installed feeders during the deer season of 2009-10. These finds had removed any doubt in his mind that he indeed has something very unusual on his property. He made a point to warn us to be careful as he has large wild hogs and big cats on the property as well based on claw marks recently found on trees. We had all members of TexLa and a couple of independent researchers present for this trip. The team began to arrive on Thursday February 18th around 11AM to setup camp. We caught a break with the weather which was quite mild with day temps in the mid 60's, and lows around 50. We moved base camp to the back of the property where a group of campers had been run out in the middle of the night by what was described as "large monkeys" in an incident that occured on the property in the fall of 2008. For the first night we acted like typical campers built a fire, talked and cooked, etc. We had an array of baited audio recorders and game camera's deployed, during the night we had several coyote outbreaks but nothing was detected around base camp that could not be described as known local wildlife.
After recovering and downloading all audio recorders, we spent Friday checking the local area for suspicious tree damage and tracks. No tracks were found and the snow storm that had dropped 12 inches of snow in this area of Texas one week prior had damaged many trees (mostly Pines) making any tree breaks found suspect. For Friday night we setup and did call broadcasts from the area of base camp with teams spread out over half a mile along a ridge as listening posts. Game cameras and audio recorders had been deployed in the area between the hours of 16:00-19:00hrs. Everything was setup for night operations by 19:00hrs we returned to base camp and ate supper, our first broadcast of vocals going out at 22:40hrs. We tried a variety of calls over several hours including the Ohio Howl, various whoop combinations, which are cleaned vocals that we had recorded on previous outings, and we interspersed some wood knocks. We did not hear any suspect response vocals while we were deployed this night. We did collect some pictures of wildlife on the game camera's including Deer and several Coyote as well as some very interesting audio which included a growl and audio of what sounds like something getting pummeled. To check these out click on the audio links below. For Saturday night we decided to broaden our approach and cover more ground so we moved some of the audio monitoring to an adjacent hunting lease and used the roads in the area to move the call broadcast point around to see if covering a larger area would increase the chances of getting something to respond.
We began deploying at 20:30hrs on Saturday to a pre-mapped starting location. We had agreed that if nothing responded within the first hour at any broadcast point we would move on to the next location. At each location listening teams were deployed in a wide spread array on the dirt roads criss-crossing the area. We began our progression and worked through the pre-determined call locations. During the night we recorded some coyote outbreaks but did not detect any unidentified return calls. We returned to base camp at 01:00 hours and debriefed all teams with only the known responding species being identified. As usual we had recorders running all night are various locations. The team returned home with hundreds of hours of audio to go through to see what might have been happening in areas where we could not be in person. The audio in the left column below is what we have found as this page is being constructed, anything additional that is found in the audio from this outing will be added here. What we already know from the audio is that at one of the recorder locations on Sunday morning we had something large walk up at 3:24AM, it was tall enough that it could be heard sniffing at close range to a hanging recorder at 6ft off the ground in a small tree that would not handle of even small creatures climbing on it. This recorder location was not baited and also did not have a game camera deployed with it as all of our camera's had been deployed at other locations. This recorder was stationed simply with the idea of gaining vocal responses on this night. Additional audio listed below contains something growling on Friday night and we may have captured a kill in process on Saturday night. Listen below to decide for yourself.
This is the growl sounds that were captured at 20:59hrs on Friday 2-19-2010.
The following sound file was captured at 22:00hrs on 2-20-2010.
Identified: After recording several like sounding incidents in more than one research area this has been identified as the warning vocal of a rabbit. While we had thought that the subject was a rabbit, we weren't familiar enough with a rabbits range of vocals to say what was happening. This rabbit was spooked by something and only sounds like its getting the crap beat out of it. What sounds like impacts are actually the rabbit stomping its foot at the same time it is vocalizing.
The next 2 files are the walk up that was captured at 03:24hrs on the morning of 2-21-10. The total time for the incident is twelve minutes, we have split the incident into 2 parts to facilitate quicker downloading.