March 11/12/13/14 2010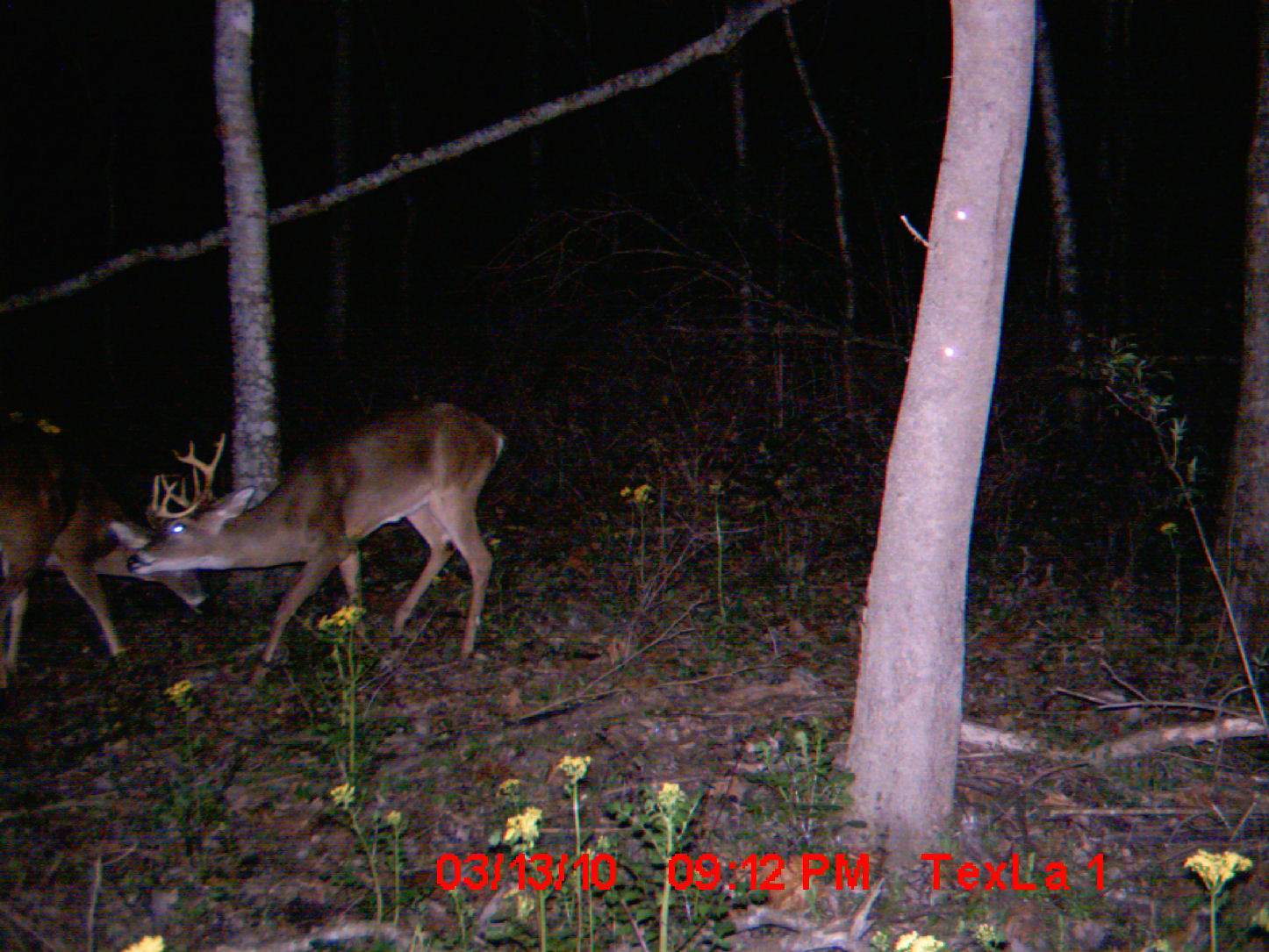 For this outing we returned as we do each March to one of our most active research locations in Louisiana. Some of the team arrived on Thursday March 11th with the rest of the participants arriving on Friday March 12th. We had 4 TexLa members plus 2 additional independant researchers on this outing. Game cameras had been placed by those arriving on Thursday with additional cameras being deployed on Friday afternoon along with the usual audio recorders. All deployments were completed by 19:00hrs where we returned to base camp for supper and to plan our strategy for that night. On previous visits to this location we have recorded wood knocks, walk ups and (so far at least) unidentified vocals. Below we will review what was attempted on Friday and Saturday nights and will follow that up with the results of our review of the audio and a time line of events that took place over the weekend. This was a very productive trip where we had alot of events happen that remain unexplained. We didn't produce much in way of game cam pics this weekend, but we did collect some very interesting audio to share below.
Friday Night:
For Friday night we decided to spend some time broadcasting calls from a remote bridge where interesting audio had been recorded before, we took our time getting ready and left to deploy to the first location at 23:00hrs. We arrived at our starting point at 23:25hrs. After approximately 45 minutes of no responses we had one member of the crew decide to return to base camp to turn in for the night (more on this in a minute). After 90 minutes at location one the rest of us decided to move to a second location, this was near a pond which has contained sun basking Alligators on previous visits. At approxiamately 01:15hrs Saturday morning we began to have a succession of loud water slams on the South side of the road, which after some time we heard something exit the water. Shortly after this the slams continued for a couple of minutes on the North side of the road.
From our position 120 yards East of the source, we approached the crossing point and began to scan the water on both sides for signs of the culprit and managed to film, using Night Shot and IR boost, a beaver swimming on the south side of the road. Since the sounds continued during this incident on the North side of the road we are not sure that the Beaver(s) are responsible but they are the most likely source. You can listen to a portion of this incident below. We have compared these to known beaver tail slaps but have yet to find one that is as strong as these. The remainder of the team returned to base camp at 01:45hrs, arriving and unloading at approximately 02:00hrs. The researcher whom had returned earlier had started his audio recording at base camp at 00:30hrs and had promptly retired for the evening. On later inspection we found that at 01:06hrs Saturday morning something had approached and indeed passed between the researchers tent and his mic stand which was situated about 20ft from his tent. This could be determined due to his setup using an XLR mic cable that runs back to a Marantz Digital recorder that he keeps in his tent. Whatever passed between the tent and the recorder ran into or stepped on the cable in the process. It then proceeds to the mic stand which is holding a Rode NT4 Microphone pointing up. The recording seems to indicate bipedalism as its means of locomotion and more impressively you can hear it sniffing at close range with the microphone at 6 1/2 feet off the ground.
Saturday Night:
After running into town for breakfast, we spent the day on Saturday recovering the audio recorders, downloading the audio to laptops and refreshing batteries and then re-deploying. We moved some of the Game Cameras and rebaited them for Saturday night, keeping an eye out for tracks or any other possible evidence and returned to base camp to grill some burgers. For Saturday nights operation we split into 2 teams, Team 1 left at 21:45hrs to do some road running while Team 2 stayed back at base camp to see if the residual smell of cooked meat might bring something in. At 23:10hrs the team staying at base camp had readied and prepared to leave and try some call broadcasts at three predetermined locations. Meanwhile, Team 1 returned to base camp at approximately 23:30hrs without seeing anything major jump their path on the roads. Team 2 started at the same bridge location from the prior evening where we broadcasted a variety of calls with only distant coyotes replying. Just as we were about to start packing up to move to location number 2 we had a tree crash about 60 yards to our Northwest, it could have been deadfall, but on a night with not the slightest hint of a breeze this struck us as unusual. The team decided to stay for another 10-15 mintues, however, no further activity was detected. The team packed up to head to location 2 at 00:40hrs. Location 2 was down the road from the bridge about 3/4 of a mile to the west. We did several broadcasts from location 2 without any returns, and after 45 minutes the team departed for location 3 at 01:25hrs. Location 3 was about 6 miles north of the previous 2 locations and this was the first time that we had tried to broadcast calls from a turn out off of the dirt road passing through the area. While setting up we noticed an odor of death but attributed it to an Armadillo or road kill of some type, no carcass was found. Setup and broadcasting from the third location did not result in any detected responses and the team returned to base camp arriving at 02:25hrs Sunday morning.
Unknown to team 2 when they arrived, there had been some action at base camp. The Road running team had sat up waiting for the return of Team 2 until 01:00hrs before preparing for bed. From the woods behind base camp there was a very loud wood knock that was heard by those in camp that were not already asleep at 01:20hrs, they noted the time, and we were able to locate this event when we reviewed our recordings the next day.
Chronology of audio recordings from the March 2010 outing:
While we were in the field we were only aware of the events that are described as "Discussed above", the rest of the events were discovered during later analysis of the audio recordings. Collectively the group recorded close to 300hrs of audio during this outing, most of the events in the list above were found by listening to every second of files that are as much as 15 hours long. The results do speak to the benefits of a commited bioacustic canvassing effort and we find the captured events to be quite enlightening regarding this and other research areas we are working on. Below is a brief review of what the files contain.
1. Recording number one was captured by a recorder that was situated near an ATV trail about 3/8ths mile from the closest road, the time of the event 6:48PM. This was about 5 minutes after two of the team members had completed deploying 3 audio recorders in the area and had returned to their vehicle and drove on to the next location.
2. This is a rare (at least for us) double Wood Knock, and at very close range. This was recorded by the same recorder as number 1.
3,4&5. These vocalizations are kind of faint and will be best listened to with headphones. They were all captured by the same recorder as files 1 & 2. The last of these occurred about 20 minutes before we arrived to do some call broadcasts. Click here to see more on this recording and others.
6. This was recorded at base camp, one researcher was present but asleep at the time. Something passes between his tent and his mic stand.
7. These are probably Beavers, recording was captured on one of our parabolic dishes with the audio piped into a Sony CCD-TRV65 8mm Camcorder.
8. Another Wood Knock, captured by the same recorder as 1-5 and extremely close at 4:39AM Saturday morning.
9. This Wood Knock is from Saturday night, recorded on the same ATV trail but located farther down the trail next to a large slough.
10. Two light taps in close proximity to the same recorder location as number 9.
11. The monster Wood Knock from behind base camp, we have two good copies of this, one from a recorder placed 200 yards behind base camp and fortuitously placed for this event and recording number 12.
12. Same event as number 11, this second recording was captured by the Rode/Marantz combination recorder in base camp.