Nacogdoches County, Texas
Date: 12/16/2011
Time: afternoon 5 to 5:30pm
Weather: Cloudy
Nearest City: Nacogdoches
State: Texas
Highway: CR.525
Nearby water source: Yes, small lakes/ponds had been dry, but have filled in some with recent rain.
What happened: I had to drive to mother-in-laws house to get medicine for my wife. On the way back home, I had the window down and as I rounded a turn I could smell a vary bad odor sort of like when wild hogs get into mating season. At this time I noticed something standing about 20-25 feet off the road back into a little slew area. At this time it was dry, but since we had rain over the weekend there is some water standing in it now. I stopped my truck and looked at this thing for what might have been 10 minutes. I would say its height was 7 foot or just a little over, covered from head to toe with shaggy redish brown hair, big dark eyes, face looked like a cross between an Ape and a human, aprox. 3 - 3 1/2 wide at the shoulders, just guessing at its weight about 350 - 400 lbs, minimum. The thing just stood there looking back at me, until I started thinking I better get home since my wife was sick and she might worry. I did not see which way it walked off.
Terrain: Heavily Wooded private property
Activities: Driving
Any Prior Sightings: Yes, in the early 90's there was a story that some people claimed to have cliped one with their car late one night on CR.2863. Wifes family and mine have lived in the area all our lives and we have heard strange vocals coming out of the woods near the back of her mothers property. Wife's mother and father have seen something recently that they said was about the size of a 2 year old coverd in hair, running on 2 legs across their yard and catching birds and then running back into the woods.
Any sound: Not in this incident but at other times, strange vocals have been heard.
Odors: Yes, similar to hogs. Not pleasent.
Any farms nearby: Not close by, mostly woods in this area.
Witness provided evidence, photos or drawings: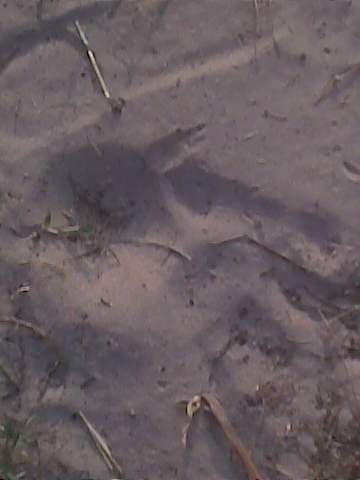 Investigator Report:
Two visits have been made to the sighting location by the TexLa Research team. The first visit with the witness took place on Wednesday December 28th, 2011. We arrived in town around noon and were met by the witness at a pre-agreed upon spot, about 3.5 miles from the sighting location. For this first visit 2 TexLa members and 1 member of the Mid America Bigfoot Research Center were present to interview the witness and his family. We were taken to the sighting location which was a slough that was now filled with water, but had been dry at the time of the sighting. A photo of the location is below, taken from the approximate spot where the witness was parked on the road looking out across the slough. The time of the sighting was 5:30PM when the witness happened to see it standing there in fading light, completely still, with nothing moving but its eyes. He watched it from his truck for about 10 minutes and finally proceeded on his way back home. In addition to his sighting and the incidents that his wifes family has had at their residence the witness informed us that he has a deer feeder in the woods behind his house that has been repeatedly robbed of corn via having the top opened. This is accomplished via releasing a latch at over 8 feet off the ground, most people would need a ladder to reach the latch or add feed to the feeder. A picture of the feeder has been provided below.
After hearing and recording reports from the witnesses, we devised a plan to place audio recorders across the area. We talked to and secured permission from the owner of the property behind the in-laws house to place an array of recorders in the valley behind their back fence line. We also placed audio recorders at the sighting location, at the deer feeder location and along a creek that had a steady flow of water about 1/2 mile east of the sighting location. Deployment of all audio was accomplished by 5:30PM, a tent was setup on the inlaws property to facilitate 2 of the researchers whom were spending the night to experience some of the sounds of this area and gather addtional information for a return trip with a larger crew and more equipment. All audio from this outing has been reviewed and most of the events recorded could be either attributed to local livestock or known wild fauna, however, we did collect a couple of things of interest that you can listen to below. These include a strange raspy distant yell type vocal and a rather noisy creek crossing.
Audio from December 28th-29th, 2011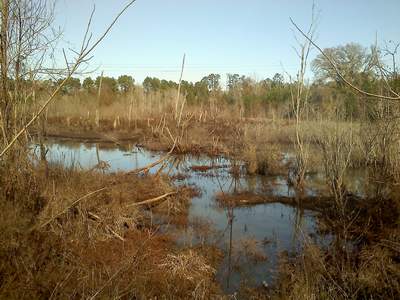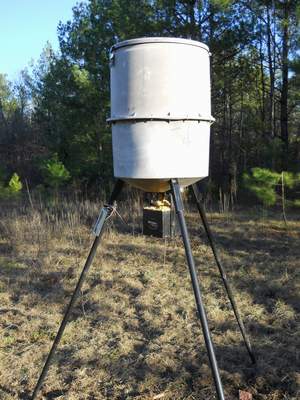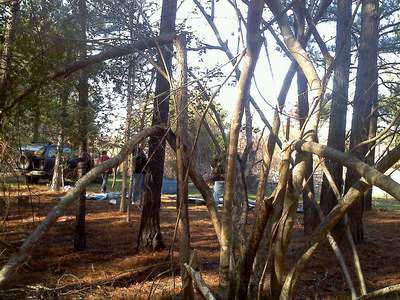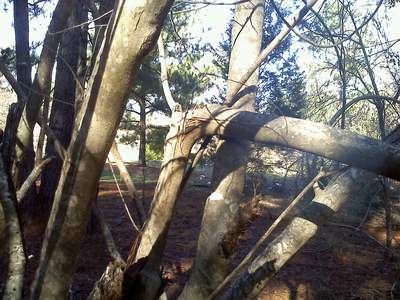 Follow up visit January 27th-29th, 2012
We had all 7 members of TexLa present as well as 1 member of the MABRC research group, and 2 independent researchers for the follow up visit. Most of the team had arrived by noon on Friday the 27th and we setup base camp inside a large gated tract of private property in the area that we were researching. It must be said that all of the property owners that we worked with on this project were gracious and accomodating to our efforts and a major thank you goes out to them for their hospitality (and the donuts) from the TexLa group and all who attended.
Friday January 27th, 2012
We began scouting the area on Friday afternoon, we were aided by one of our members bringing his Can-Am Side by Side for this outing. This allowed us to cover many of the trails that crisscrossed the propery in short order. While in the course of looking for evidence an impression was found that had a strong resemblance to a Sasquatch track. For the record we reserve the word "track" for something that has distinct visible toes. For the purposes of this report we will refer to this find as an impression, if it indeed was a track to begin with it was quite old and the toes had since been weathered and filled back in. The heal portion does retain a very distinct shape, however, we will leave it to the reader to decide if its a track or not. Pictures of the impression and the resulting 17.5 inch cast are included below.
For Friday night we dispersed into several listening teams around the area and tried some manual vocals followed by some call blasts between 8:30PM and 11PM. Several Coyote outbreaks were triggered by our efforts, some of which we have provided below. None of the vocals that we heard this night appeared to be of unknown origin. By midnight we decided to let the audio recorders that had been deployed earlier in the day do the work for the rest of the night.
Audio from Friday January 27th, 2012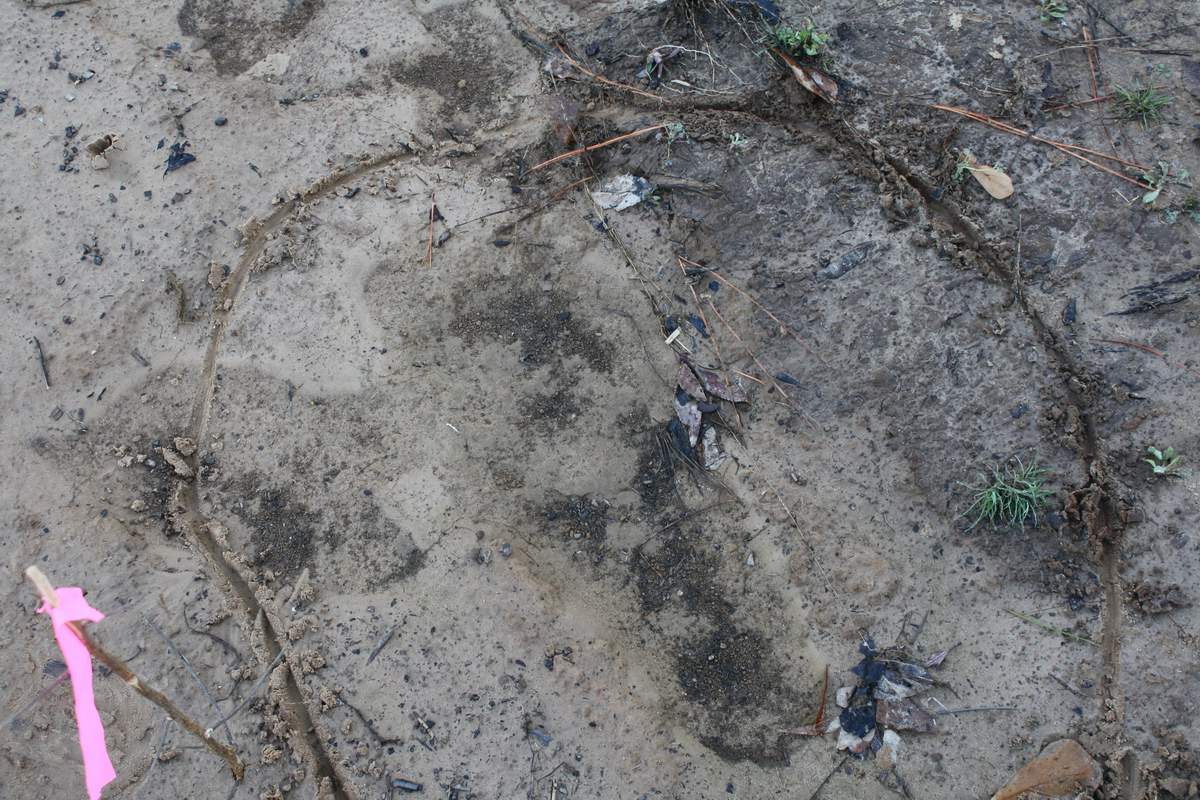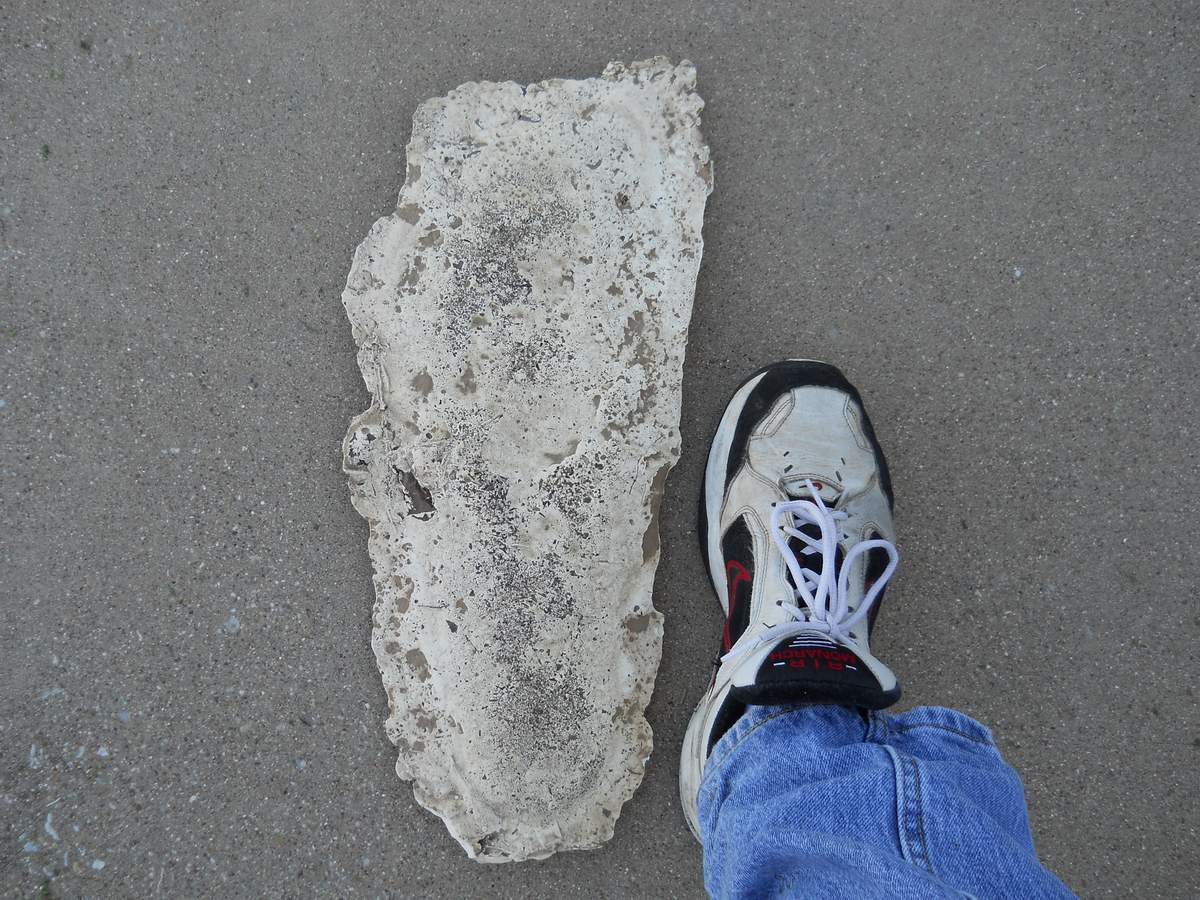 Saturday January 28th, 2012
On Saturday we had two additional areas that we were going to check out. The first was access to additional property that sits in close proximity to the area of the slough where the sighting in this report took place, the second was we were going to take the thermal camera and do some road running on some of the Forest roads in the Angelina National Forest. The Angelina National Forest has a long history of encounters with Sasquatches and we had hopes of getting some thermal video if we could catch one close enough to the road.
During the day on Saturday we checked out the new property that we had been given access and decided that it would be close enough to the sighting location to warrant dropping some audio into the area for overnight surveillance. In addition, we placed more audio in the area of the slough where the sighting had taken place as well as covering the same areas that we had camped in the night before. Game cameras had been deployed on Friday in several areas, these were later found to have captured nothing of interest from either Friday or Saturday. For Saturday night we spent some time in the base camp area with some good Coyote vocals being captured, but nothing of an unidentified nature was heard or encountered.
Starting around 2200hrs, we left base camp and headed into the Angelina National forest to make a slow run down to the river. We took our time getting in and back out of bottoms to Therm into the woods in each direction. Thermal pictures and video were captured of deer which were observed in fields next to the road. Hits of other small game animals and of a large hog were also collected but ultimately nothing that was thought to be of our target was seen or heard during this trip. We will be staying in touch with the witness and his family in case further activity is detected in the area. Those updates will be added to the this report if anything of interest is documented.
Audio from Saturday January 28th, 2012
<![if !supportEmptyParas]> <![endif]>