January 25/26/27 2013 Davy Crockett National Forest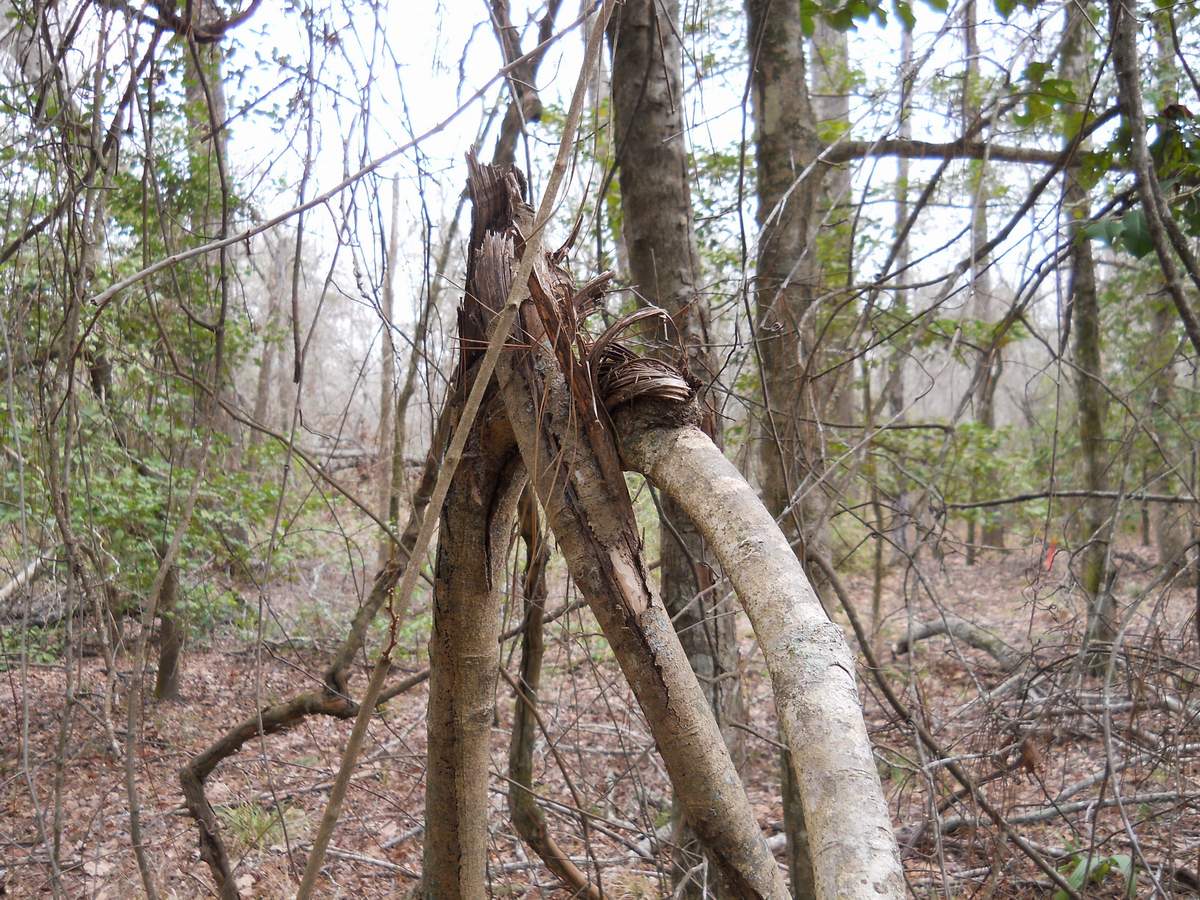 For this outing we had a total of 8 researchers participating, this included 6 TexLa members, 1 member of the Mid-America Bigfoot Research Center and 1 independent. We arrived at the site around Noon on Friday January 25th. The Davy Crockett National Forest, contains more than 160,000 acres of East Texas woodlands, streams, recreation areas, and wildlife habitat. Located in Houston and Trinity Counties, the forest is centrally located within the Neches and Trinity River basins, and encompasses the Alabama Creek WMA. The forest is known to produce sighting reports as well as anomalous sounds such as wood knocks and unidentified vocalizations. Several of the TexLa members have researched in the forest before and have experienced these events in the past.

Most of the crew arrived around noon and we began setup of base camp. The goal is always to get this done as quickly as possible so that a general scouting of the area can begin and we were set by around 2PM. Later in the evening we were joined by a member of the Mid America Bigfoot Research Center as well as a witness and family that have had several encounters in and around the forest. This weekend we enjoyed sunshine and unseasonably warm temperatures for late January, this was also the last weekend of duck season as we would find out early Saturday morning.
Friday January 25th, 2013
After camp was setup we began scouting target areas for audio and game camera placement. One location chosen was off of a gated forest road about 1/2 mile from our campsite we walked in about 200 hundred yards on the gravel road and about 60 yards into the forest. We deployed audio and a game camera baited with peanut butter this resulted in a walkup episode of something sounding bipedal on its approach. Time for this incident was 1:21AM Saturday morning and can be listened to below, in addition to this there was a wood knock captured at this location about 1 hour prior to the walkup. Strangely the game camera caught nothing during this incident but captured pictures of us the next day when we returned to recover the audio recorder, this scenario has been repeated several times now where audio reveals that something came in to the recorder location but the game camera failed to capture the moment. This has happened with at least 3 different manufacturers and we are building a hypothesis regarding the reasons for this type of failure, to be shared at a later date. A knock was heard and recorded at 9:52PM, at base camp, which is linked below.
In all, 4 knocks were recorded on Friday night/Saturday morning all from locations located within 100 yards of the river. Recorders that were placed in other parts of the WMA this weekend failed to produce much activity that we could determine to be possibly Sasquatch related. Our tactic for Friday night was to deploy as 2 man listening posts near base camp with one remote 2 man listening team deployed about 1 mile south along the river. The remote team arrived around 10PM and left around midnight, while they were at this location they heard only identified wild life vocals, primarily owls. However, this remote location had audio dropped earlier in the day and was recording for several hours prior to the remote team arriving. When this audio was later reviewed several possible knocks and a tree crash had been recorded at 9:03PM, this event is posted below. We retired for the evening around 2AM, later at 3:12AM after all were asleep there was a wood knock captured in close proximity to base camp. Since we had several recorders running in the area when these were later reviewed it was determined that the source of the knock was located slightly North and West of camp, this is available for review below.
Saturday January 26th, 2013
After recovering audio recorders for downloading, we hiked into a nearby valley and followed a power line cut through, then moved into the woods and worked our way along paralelling the river. During this scouting mission we found a possible structure pictured below, as well as a badly broken and twisted tree, also pictured above and below this report. On this day we decided to widen our net and deploy recorders over a wider distribution, so 5 recorders were deployed into areas that were several miles away in the WMA and were thus not in close association with the river as a water source. As previously mentioned, not much was produced from these, however, one walkup was captured from a location that was approximately 4.5 miles SW of base camp. Other than this the recorders West of camp produced very little of interest from their deployed locations on Saturday night, clearly doing much in these other areas that were not close to the river was time wasted.
We had visitors join us for a while on Saturday evening, a witness and his family whom have had some incidents in the forest and shared those stories with us around the campfire. On their way out when leaving around 7:30PM, they stopped on the road to try some low volume calls using their car stereo. They returned excited about 15 minutes later, reporting that they had seen movement off the road near base camp and after stopping to check it out heard a growl sound. Several members of the research team walked up the road to check it out (serveral hundred yards outside of camp), they returned about 30 minutes later without seeing or hearing anything. No evidence of any type was discovered. The plan for Saturday night was to split the 8 researchers into two teams of 4, one team was to stay in camp and just remain quiet and listen for any activity, the other team was going to road run and call blast/wood knock in various areas along the forest roads.
At 10:45PM, 4 us set out to run the forest roads and try our luck with call blasting and wood knocking. Meanwhile back at base camp the remaining team sat and talked around base camp listening to see if the reduction in numbers might embolden anything to vocalize or knock close by, what they got instead was not expected. Between 11:00-11:45PM, the researchers in base camp reported several items being thrown into camp. Around 11:30PM, a short (6-8") L-shaped piece of a tree branch (one edge was burned, and may have been obtained from one of the other campsite's relic campfires) landed on the large tent in base camp, adjacent to the campfire where the researchers were chatting. About 15 minutes later, a 2-3" rock landed on the ground near the researchers at the same campfire. Source and actor was never determined. A search along the road did not result in any other rocks found, so the source for the rock is unknown. No footprints or other evidence was found.
From 11:00PM to Midnight the road run team made several stops, staying 5-10 minutes at each stop to listen for any replies to wood knocks or calls. All was quiet at each stop and nothing was sighted during the road run effort. Shortly after midnight the road run team texted base camp that they were in route to return, they were informed at this time that things were being thrown into camp. Returning team parked short of camp and waited for about 15 minutes but no further throwing incidents were reported and thus returned to camp to debrief by 12:20AM. All had retired for the evening by 1AM.